For many years I watched the videos from conferences such as CppCon and C++ On Sea, and I dreamed of the day I could attend. This year, due to the COVID-19 outbreak, CppCon was made virtual, which has allowed me to participate in. I need to thank #include <C++> for allowing me this experience through their scholarship program, and for the incredible work they do to create a more inclusive community for C++.
That being said, it was also my first ever conference, and I didn't know what to expect. I knew the talks and the presenters' level, but I didn't know what happened during the breaks. And how I was surprised!
The virtual conference used Remo, a tool that emulates the feeling of multiple groups of people in rooms. Each room had numerous tables, and once you "sit" on a table, you could see and talk with the people there, which allowed a feeling of real-life IMHO. You could change tables quickly, and with this, I got the pleasure of meeting incredible people, most of them very friendly and interested in sharing their knowledge.
The downside of the tables was the limit of usually eight people, and as the week went by, we could start seeing a lot of tables with seats taken by people that were not interacting in any way, most likely not even listening. This limitation made it a little bit harder to find people to talk at certain times. There were fewer people online due to different timezones, and those online usually ended up in a table without any vacant seats.
I tried to force myself out of the comfort zone and join different conversations, regardless of how strong I felt like I didn't belong there like I didn't have enough knowledge to contribute to the discussions. I thank those who saw beyond my shyness and proactively engaged with me; this has helped me feel more welcome.
By the end of the week, I was feeling much more comfortable on jumping into conversations, I already felt like I know lots of the folks from a while back, and it's fascinating how you could start a discussion, stop for a talk, and return may be a few talks later and get back to that exciting topic you were discussing.
Diversity
As someone who puts a lot of effort into defending and improving diversity, I need to mention it here. It's no news that in the STEM field, women are a minority. Still, sometimes I get blindsided by the local groups I participate in or the higher female representativity I see in the company I work for (compared to other companies) and don't realize how discrepant the general case is.
Cornor Hoekstra did the math on his CppCon 2020 Trip Report, and women gave only 6.9% (6/87) of the talks. This number is no different from the people I talked on the "hallway". Considering the number of people I have engaged in long conversations during the six days of the conference, only 6 out of 55 were people who didn't identify themselves as a man.
But what CppCon missed in quantity, sure the women attending made up for in quality. I was fortunate to meet some of these awesome women with whom I was able to identify mutual ideals, and for sure, they will now be in my inspiration list. In particular, I want to mention Céline Dedaj and Honey Sukesan. Céline, who is not only incredibly friendly and funny but also is on the Code of Conduct team for the conference and was the person who I had the pleasure to share a panel during a morning of Lightning talks (thank you Michael Caisse for this invitation). Seeing Honey, who was also a first-timer in CppCon like me, being courageous presenting a lightning talk was motivating. Maybe next year I'll get to be bold like that and present something too.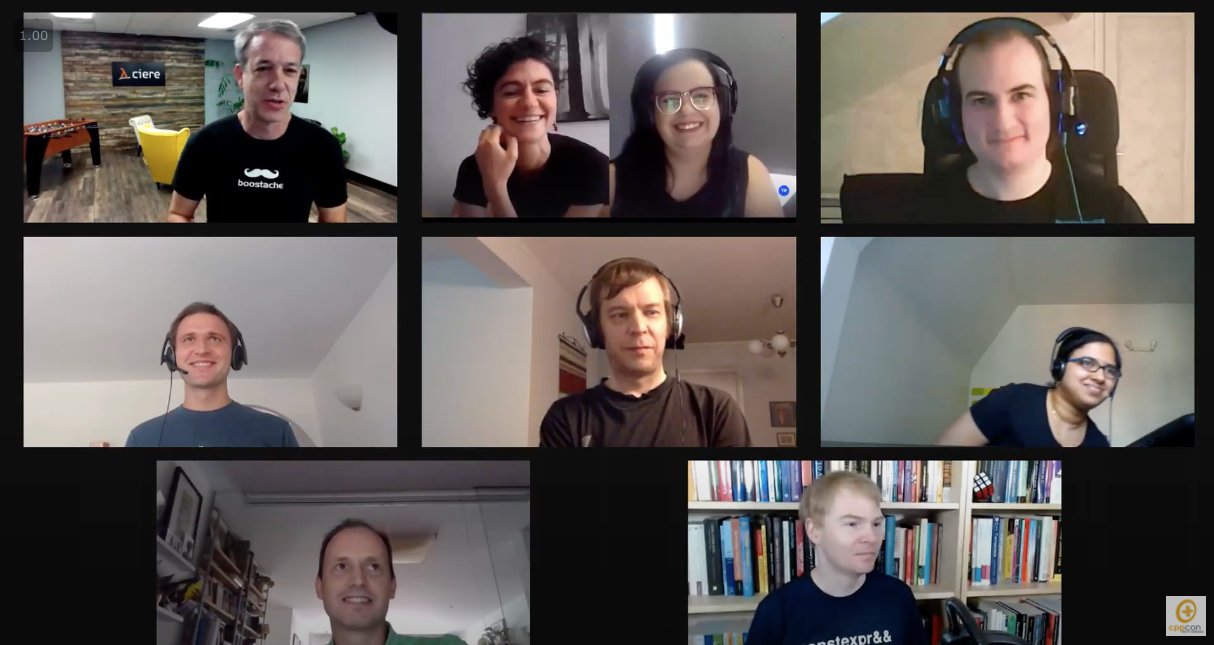 Morning's lightning talk
Community
After just 2 or 3 days, I realized I missed the opportunity to talk technical stuff, especially on C++, on a consistent and frequent way. The region I live in doesn't have a strong community on C++, not even a generic development one. I have joined a few that are virtual, but usually, this means a lot more people involved and a lot less chance to interact with others.
I have been thinking about starting a meetup, but it always looked so much complicated. Luckily for me, some of the people I met were organizers of various meetups and very engaged in different communities. I bothered them with lots of questions on how to start and run a study group/meetup, and, to my great joy, they answered all and left me with some very helpful tips.
It was a consensus that the best tip is to start, don't wait forever. But they have also mentioned that it was really good to get more people to help from the start, have some icebreakers prepared and keep consistent, having the event even without content. They have also referred me to Jens' Weller talk on Starting and Running C++ User Groups from CppCon2019.
Thanks in special to Gabriel Aubut-Lussier from C++ Montreal, Jason Turner from North Denver Metro C++ Meetup and CppCast, Rob Irving also from CppCast, and Jens Weller from Meeting Cpp.
Final thoughts
After an intense week, I was torn between the mental exhaustion and the sadness, knowing it would end. Everyone who went to previous editions of the conference mentioned that this year's virtual event was good, but nothing compared to a physical conference. This, alongside my own experience this year, got me very interested in attending a non-virtual version of CppCon.
Because I had so much to say, I decided to write this post on the conference's social aspects and will tackle the talks and some other things in upcoming posts.
If you were there too, I would love to hear your side of the story. Feel free to contact me on Twitter: @thamyk.